How to stage children's rooms
Selling your home can be quite a challenge when you have kids. Living in your home while showing it to potential buyers is even more challenging. You have to make it and keep it appealing for families coming to your house to buy it. To make this process trouble-free for you and your children, you have to be clever. Try incorporating all the minor tweaks but keeping a stable home environment your kids are used to. Walking this fine line can be pretty exhausting, even for the most organized people you know. However, with some easy-to-follow tips and tricks, you could learn how to stage children's rooms. You can make them appealing for buyers and comfortable for your little ones living there.
The first rule of thumb when staging children's rooms is to declutter
When staging your home for people whose preferences you don't know, some wisdom is necessary. Remember what it was like when you first moved into your current home. You probably had a vision of how it would look like and started incorporating your personal touches, little by little. Try to make your home have the same potential of a blank canvas your buyers can fill with their visions. If you don't know where to start, you can always turn to home staging specialists. Enlist their ideas for a thriving quick remodel.
Quite often, the best way to start your home staging project is to declutter and get rid of some things. With kid's rooms, especially, you have to be quick and sort their toys and personalized decoration before you let people in. The best way to go about it is to organize their stuff into different boxes and bins but keep their favorites and most used items. When the moving day comes, this will help you a lot as a part of the kid's rooms are already in the boxes. Then, try to look for clever ways to create more storage space in your home. In case you have no free space to store the things you have decluttered, you can rent a storage unit. The more items you remove from your home, the better prospective buyers will like the house because they will envision themselves living in it more easily.
With good organization skills, you can even involve your children to help you keep their rooms tidy and clean. Keep in mind that the process can be overwhelming for the kids if they are little. Therefore, try to be vigilant of signs of discomfort.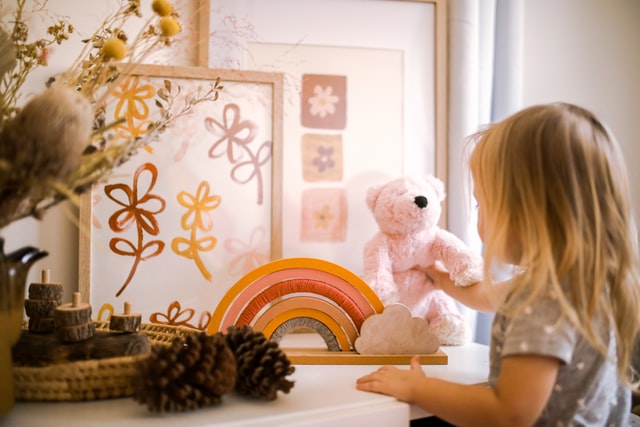 Let your children pick their favorite toys to keep while staging their room
Start planning the moment you decide to move
The whole moving and selling your home thing can be quite a stress for the entire family. And especially if you have little kids, moving can get pretty hectic and overpowering. Even though you probably have some new memories to make in your brand new place, saying goodbye to your old hallways and walls can be more complicated than you anticipated. That is why it is vital that you start planning the process with the little ones, well ahead of your relocation. It will give you enough time to make them understand the change that is about to happen. But it will also help you keep things under control.
Removing personalized items will help in keeping the pace neutral for buyers
While cleaning and decluttering your kids' rooms, make sure to remove their photographs and artwork, at least before the buyers' schedule to visit. You don't want them to lose focus and try hard to imagine how the room would look like their kids lived there. If your kids are big fans of dinosaurs or princesses and have a whole theme going around there, you will have to think of ways to depersonalize the space. Use plain bedsheets, remove the plush dinosaur toys and think about changing the pink unicorn curtains. If you decide to go all the way to get the best price for your home, you can even schedule a home staging consultation with an interior designer.
An excellent way to depersonalize the space when thinking about how to stage your children's rooms is to paint the walls. Removing all wallpapers or custom-made stickers is a good starting point. You can use neutral colors and a pallet you think would be attractive to potential homebuyers. With walls in neutral colors, the new owners will imagine their décor inside the room and decide more quickly.
When staging your children's room, be sure to remove all personalized items.
Natural light makes the room look more spacious.
If your children's room has little light coming in, you should do something about it. Prospective buyers like to see a spacious, bright room with a natural theme. It helps them better imagine how the room would look like with their furniture and décor. Remove the curtains or other window décor that keeps the light coming in. If you don't have windows and cannot do much about brightening them up, focus on the walls. Paint the walls in bright neutral colors and think about some nice artificial lightning.
You can look for ideas on how to stage children's rooms anywhere, from your favorite magazines to online blogs about interior design. If your budget allows, you can invest in professional interior design services and have others create that perfect vibe that makes potential buyers readily make an offer. You can even visit some furniture stores or model homes to indicate the things you should be specific about.
Good lighting, natural or artificial, is significant for the whole room appeal.
Staging your children's rooms can be a bittersweet experience
Having to sell your home while your family is still living there is quite an endeavor. No matter how focused you are on getting the best offer for your home, there can still be some bittersweet emotions. Staging your children's rooms can be quite enjoyable for you and the little ones if you go around it the right way. Getting a little bit sentimental should not keep you from celebrating the transition to a new and improved living space. To make the change even more celebratory, think about organizing a goodbye party for your neighbors, friends, family and your kids' friends. That way it will be easier to say goodbye to your old neighborhood and be ready for a new life chapter. You will do something fun for the kids and help yourself unwind a bit before changing to fifth gear. So, invite your friends from the neighborhood and enjoy some free time together, marking an end of a meaningful life chapter.
Keeping a homey environment for your children should still be your priority
Whatever tweaks and changes you are planning while researching how to stage children's rooms, always keep in mind how they react. Ensure they have all their essentials there, toys, clothes, books, or something else. You can stage a perfect room while keeping a known home environment for your kids. It will only require you to work your magic and find some clever storage ideas. You can do it.
---
---