Post-holiday winter decor tips
Although having a festive home is a magical thing, there will inevitably come the moment when you should say goodbye to the Christmas decorations. Nonetheless, this is not easy, and not just because of the holiday laziness that usually kicks in. Nobody wants to go from shiny and colorful ornaments that make our homes feel special to the same old interior that seems gray and sad at that point. Therefore, you should take a look at some post-holiday winter decor tips. Think about it, winter is still here, and all its magic isn't going away simply because a few dates have drifted by us.
Decide what you want the overall style to be before applying winter decor tips
Sometimes people tend to go overboard with their winter decor. This usually happens because the house looks sad and empty once the ornaments are taken down. For this reason, you should take the time to decide what you want the main style of your house to be. Out of all the tips for winter decor, this one will help you set the tone and give you some much-needed direction.
If you're looking to try out luxury home styling, make purchasing a few statement pieces your priority. Lighting your home will never go out of style. Winter days are usually significantly darker in most places. That's why having the right lighting set-up is essential for making your home appealing and effervescent. Something that'll greatly benefit your house, regardless of the preferred style, is fire. Be it in the form of a fireplace or a few lit candles around your living area; you cannot go wrong.
The overall atmosphere of winter decor, whatever you're aiming for, greatly benefits from some candles or a fireplace if you have one.
Candles on a table to help with the overall atmosphere of winter decor.
Putting away the ornaments
Saying goodbye to your previously festive home isn't something that anyone looks forward to. However, not everything is so dark. Decluttering your home, particularly all your Christmas decorations at this time, can provide an excellent opportunity to decorate much more quickly next year. Having said this, you do need to do this in an organized manner. Take the time to prepare all your boxes and materials for putting away the ornaments before getting to the winter decor tips.
Packing fragile items
You'll also need to be quite careful if you want to avoid damaging ornaments. Some pieces are probably more fragile than others. Try to revise some tactics that'll help you keep them intact. You can do this by wrapping them up in some softer materials before placing them in sturdier boxes. Another great tip is putting them on top of everything else or even in a separate cupboard.
Don't dismiss the joyous appeal completely
Although your home isn't going to look as over-the-top as it had during the holidays, one of the best winter decor pieces of advice is actually leaving in some things that hold the essence of Christmas. You can do this in any number of ways. Make sure to use your imagination and not limit yourself. Here are some suggestions:
Leave some of the lights on
Keeping the sparkle alive without it being overpowering is the ultimate goal of any winter decor tip. Having some shiny yet subtle lights placed in the less crowded corners of your home is a great way to achieve this.
Uphold some small traditions
Making eggnog or having a once-a-week pie bake-off is a great way to keep the holiday vibe around. In the end, it's all about quality family time.
Colors are always welcome
Adding some green will help you with the transition to post-holiday decor. It'll also create an outstanding balance seeing how it's snowy and white outside. When used in the right way, green can be very classy. You could use it to decorate your table and set it up as a part of your existing decor.
Bring the snow in with you
If you want to emphasize the weather and season, get some fake snow. It's simple, cheap, and effective.
After you've gone through all the tips for post-holiday winter decor, make sure to take the time to be with your family.
Eggnog that goes great with whatever post-holiday winter decor tip you've chosen to follow.
Use this time to upgrade your home
Why not use this time for some home upgrades and improvements and kill two birds with one stone. If not for practical purposes, then for purely aesthetic ones. Some of these decor tips for winter can last you all year round and pay off greatly. Think of anything that would be appropriate independent of the season.
You can't go wrong with a cozy atmosphere
Creating a cozy atmosphere is a go-to no matter which home decor tips you end up using. It goes well with a modern vibe or a traditional one, making both softer and more enjoyable. You can easily do this by taking items that mean something to you and displaying them. Frame some old pictures of your family, or make a small collection of daily handwritten notes that you leave for each other and show them off.
Pamper routines are the most winter thing ever
Although not strictly a winter decor tip, post-holiday spirit definitely entails a pamper routine at least once a week. If you've taken us up on advice for lighting some candles, they'll also come in handy. Whether pampering for you means having a prolonged skin routine or enjoying a big bag of popcorn with a movie, it doesn't matter. You do you.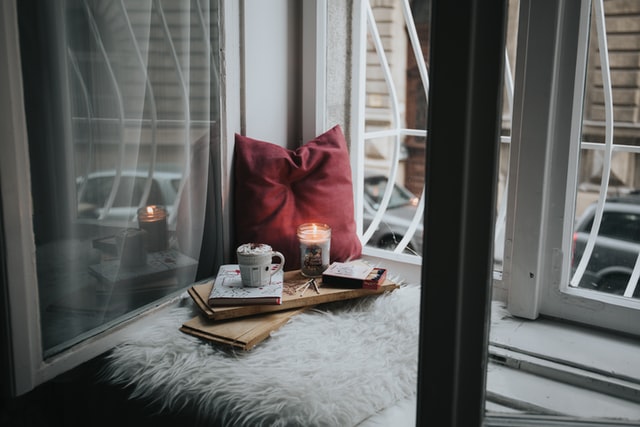 Taking the time to wind down and soak in all the winter decor is a great idea.
A cozy pillow with some coffee by the window that'll make you enjoy all the hard work you've done trying to follow tips for winter decor.
DIY-ing is a great idea
Taking all these post-holiday winter decor tips and DIY-ing them is a great way to make your home even more intimate. Add your own spin by decorating candles yourself, for example. You can mix and match to come up with different decorations that'll make your space feel fresh.
Photo Credits:
https://pixabay.com/photos/egg-nog-eggnog-nog-drink-christmas-2999740/
https://unsplash.com/photos/u_z0X-yrJIE
https://unsplash.com/photos/HCggWH-eNkQ
---
---